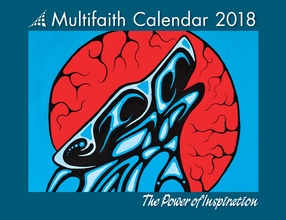 Multifaith Calendar 2018
Celebrating its 32nd year, the 2018 theme invites us to look deeply at the ways inspiration is active in each of our lives. It includes information about 14 faith groups and 370 + significant religious and cultural occasions / observances.

Excellent education resource for: faith leaders, educators, corporate managers and family / home ceremonies.

We must be the change we want to see in the world.
-Mahatma Gandhi
Let the beauty we love, be what we do.
There are hundreds of ways to kneel and kiss the ground.
-Rumi

It is our intention to provide tools that will guide you in experiencing the beauty in all the world's religions - both with your head and your heart! Some items will be for information while others for inspiration!

Imagine an old wagon wheel with a spoke for each faith. Each spoke is needed to hold the wheel as we turn on this interconnected journey! Join us in celebrating all religions!